Maps/Directions for your Pembroke Pines Dentists, Davie Dentists, Cooper City Dentists
We are located on the boundaries of Davie, Cooper City, and Pembroke Pines!  Kocher and Kocher is located in a professional/medical plaza n the South End of the Atrium Centre.  The building is a long strip and is white in color.  You can't miss it.
See the maps below.  Kocher and Kocher Dentist is your Davie, Pembroke Pines, Cooper City area dental office!  See you soon!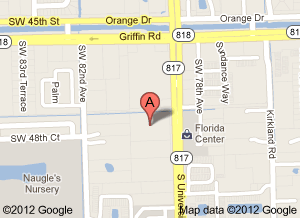 With a convenient location near Pembroke Pines, Dentistry is more convenient for those looking for high end and affordable Dentistry that would be found in larger cities.
tags: Cooper City Dentist, Dentist Cooper City, Cooper City Dentists, Dentists Cooper City, Dentists in Cooper City, Dentists in Pembroke Pines, Pembroke Pines Dentists, Pembroke Pines Dentistry, Dentistry Pembroke Pines, Dentistry Cooper City, Cooper City Dentistry