All-On-Four Technique: "Teeth in a Day"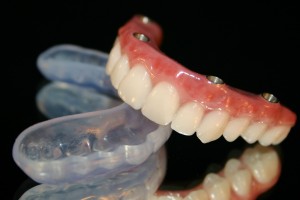 If you are missing teeth or have bad teeth that have been neglected for a long time, it can be a very scary and emotional time when it comes to replacing them.  You may have neglected your teeth in the past for a number of reasons, but the past is the past, and your future for your mouth can be better.  If your hanging on to remaining bad teeth, the last thing you want to do is be without your teeth in public, out of fear of embarrassment.  Missing or bad teeth are not only bad for your oral health, but for your systemic health as well due to a link between oral bacteria and your body.  You might not even be eating right because your teeth may be loose or you don't have all of them.  Even one missing tooth can be a major problem!  You have heard advertisements about "teeth-in-a-day" that sound "too-good-to-be-true", but you may be a candidate.  You have nothing to lose by scheduling a
FREE CONSULT
with us to see if you are suitable for "teeth-in-a-day".  It may be the best step you make towards a healthy and happy smile and a new you.  
WHAT ARE DENTAL IMPLANTS?
What people know of as a "dental implant" typically involves three parts: a titanium screw in the bone (the actual dental implant), a small metal piece that is attached to the implant (abutment), and the crown or denture (prosthetic).
THE COST OF DENTAL IMPLANTS?
Typically the cost involves
the surgical part (putting the implant in) and the prosthetic part (putting the crown or prosthetic in).
The surgical part can vary depending on how suitable your jaw bone is for the dental implants.
Additional required procedures such as bone grafts and sinus lifts can add to the cost.
The prosthetic part is typically a fixed fee per crown or prosthetic.
A thorough examination/consultation with the DENTIST AND THE SURGEON should be performed in addition to 2D and 3D XRAYS to determine the procedures involved and the cost upfront.
TEETH IN ONE DAY
You may or may not be a candidate.  This may be determined at the initial consultation.  Typically the All-On-Four technique involves the placement of four (or five) implants across the jaw and the placement of a prosthesis, or permanently screwed in teeth and gums, within a short period, typically 24hrs.
WHY KOCHER AND KOCHER DENTISTRY
Because the All-On-Four technique involves a surgical part and a prosthetic part, we believe it ideal to have a surgery-based specialist performing the surgical phase, and a specially-trained dentist taking care of the prosthetic phase, both working side-by-side in the same facility. Our periodontist Dr. Darren Pike and restorative Dentist Dr. Kocher have been working together since dental clinical residency in 2005.  Your surgeon and dentist will literally work side-by-side through your entire case, which is critical, as the surgical and prosthetic phases must blend seamlessly together for optimal results.  Our office is equipped with state-of-the-art equipment, including a 3D CBCT for accurate assessment of your mouth and jaw. Kocher and Kocher Dentistry are not a corporate franchise—–The Kochers' own and operate the office and are long-term Davie residents.  They have built an excellent reputation in the community and plan to be here for many years.  Consistency with your follow up care is critical and you will typically want to see the same dentist that cared for you before and have them "stand behind" their work.
SCHEDULE CONSULTATION
Call 954-434-0600 and we will schedule your consultation.