Debby Wishneff, RDH, Dental Hygienist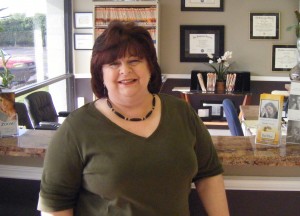 Debby Wishneff, RDH
Dental Hygienist
Debby is a native of Ohio but has been in the Miami, Florida area since 1970.  She has been in the dental field since the young age of 15 when she began working as a dental assistant for the family dentist on Saturdays.  In South Florida, Debby attended Miami-Dade Community College and Florida International University, and attained an A.S. in Dental Hygiene in 1975.  She has worked in specialty dental offices (Periodontist) in addition to General Dentistry.  She has been in our current office for 10 years now.
Debby states the following in regards to her passion for what she does: "Dentistry has changed in many ways over the years. I enjoy teaching my patients how to care properly for their teeth and perform procedures that prevent progression of periodontal disease. It is so rewarding when I see someone progress from one with various dental problems to a person with a healthy and clean mouth.  One of my greatest rewards is to help make a person who is apprehensive and nervous become a relaxed dental patient. I very much enjoy working with people and maintaining a friendly yet professional atmosphere. Being part of a team and making it work is also a very important part of a successful practice."  Many state that Debby has a unique, comfortable touch combined with a due diligence and skill required in achieving healthy, clean gums and teeth.
In her personal life outside of Dentistry, Debby enjoys exploring her creative side making jewelry and participating in craft fairs, is an avid reader, and enjoys computer and video games.  She loves to spend time with her daughter, Nicole, a recent UF Grad (Go Gators!) and current FIU graduate student.
Debby is an integral part of Kocher and Kocher Dentistry and looks forward to helping our patients maintain their teeth for a lifetime in addition to bright and happy smiles.