The Kochers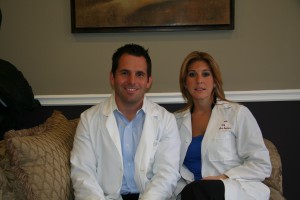 Meet Your Davie Dentists, Pembroke Pines Dentists, and Cooper City Dentists
Michael was born and raised in Dallas, Texas, and came to Florida early in high school.  He has European roots in Ireland and Switzerland, and lived in Ireland as a boy, where much of his family resides.
Jennifer was born in Epping, New Hampshire, and came to Florida as a young girl.  She has family in New England and South Florida.  Jennifer and Michael met at the University of Florida during Undergraduate Studies.  There they decided together to study Dentistry, and attended Nova Southeastern University Dental School together, during which they got married.  Michael and Jennifer have spent their careers  practicing Dentistry in private dental offices and clinics and have been at their current location in Davie for 9 years.
Michael and Jennifer purchased the established office of Mark Hellerman in 2009.  In 2013, they acquired the practice of retired Dr. Jeffrey Auerbach, a long established and reputable dentist in Broward county.  The office always enjoys welcoming new patients and look forward to furthering their reputation as honest and dependable private dentists in the community.  Jennifer and Michael have a 2 year old daughter, Madelyn, and live happily together in West Davie.  They look forward to continuing to care for their patients and meeting many new in the future.
As a husband-and-wife dental team who incorporate in-house specialists, Drs. Kocher feel a strong synergy belongs to them in providing all phases of Dentistry to all ages and comfort levels.  They are committed to honesty and integrity, and providing a comfortable, convenient and affordable dental experience for all of their patients and look forward to successful future where their family will make your family smile.